Damage to Julie's parent's friend Gary Knight's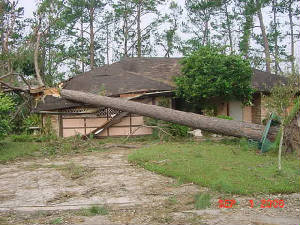 A tree fell on to his garage. Click mouse for larger picture of it.
HURRICANE KATRINA - One of the worst hurricanes in recorded history has hit our area. It has left millions homeless, and an unknown number of people dead. The deadly "eyewall" of the hurricane passed over our city of Slidell, LA after it went over New Orleans. We found out yesterday, 9/1/05, that our homes made it through okay. Other than minor damage to our roof our apartment was fine. There was no flooding or heavy wind damage. My wife's parent's house had about 2" (inches) of water in their house, and some trees down and limbs on their roof. My wife's grandmother's house had many limbs down in her yard, but no visible damage or flooding to her house. We are very blessed that we have homes to return to when we are allowed to do so. Everyone please pray for the millions of homeless and missing out there. This is a devastating natural disaster that will take many years to recover and rebuild. Please check out the three pages of hurricane damage for pictures of our homes, and Julie's office and Best Buy where I worked. -- This was updated on 9/2/05 by Mike Buckley
Click your mouse here. Check out this website from New Orleans CBS channel 4, WWL. It has updated information about the hurricane recovery, and live streaming video.
STEVE VAI!
ONE OF THE BEST GUITAR PLAYERS IN THE WORLD!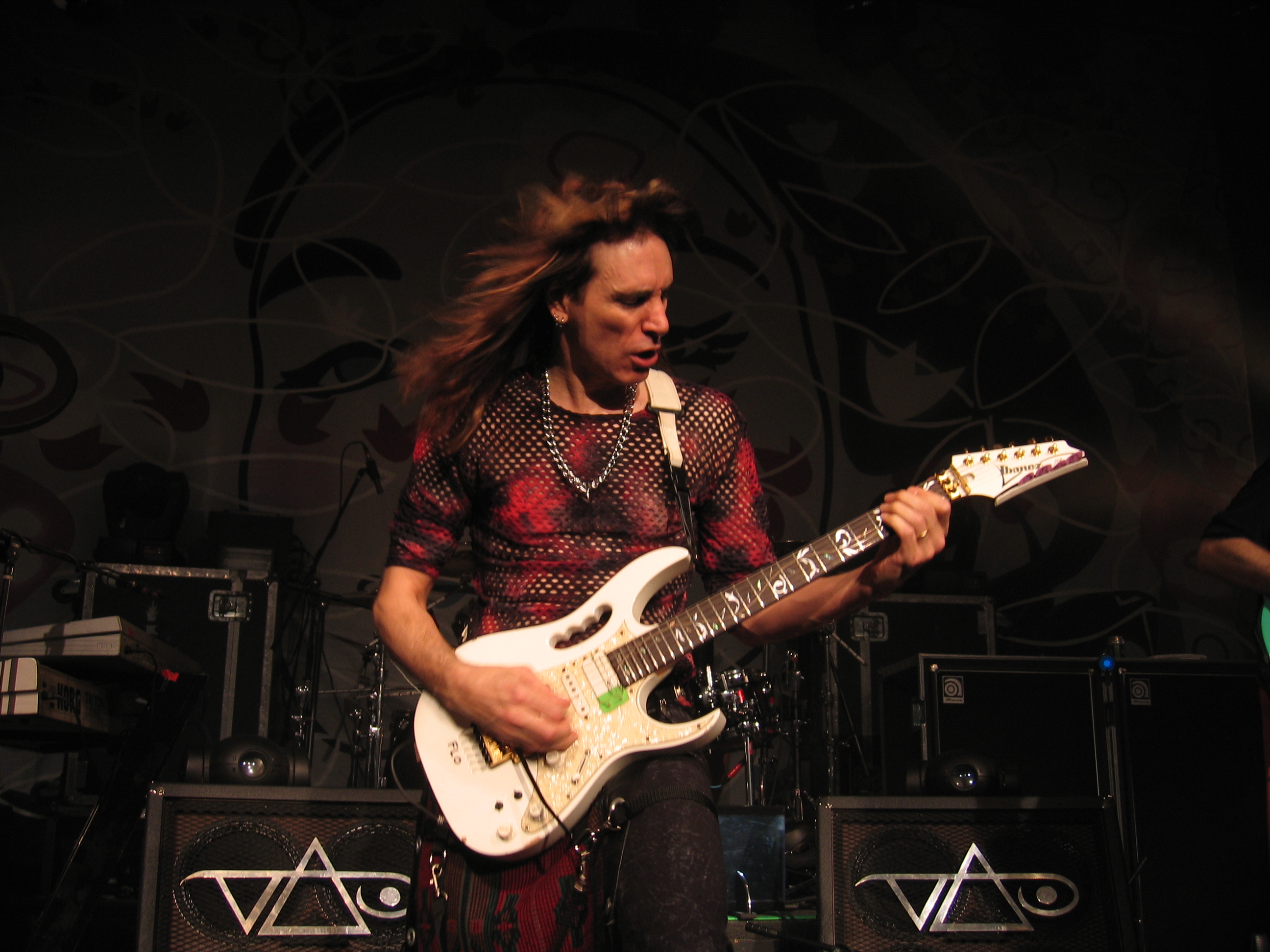 I SAW HIM IN CONCERT ON 3/11 AT HOUSE OF BLUES IN NEW ORLEANS.
I finally got to see one of my all-time favorite guitar players in concert! I saw Steve Vai at the House Of Blues in New Orleans on Friday, 3/11. He played an incredible show with his band for over 3 hours! I was blown away. I was up on the balcony above the stage. Next time I hope to get a better view down on the floor. He is on tour now in support of his new album, "Real Illusions: Reflections". He is one of the best guitar players today! Check out his music if you haven't already. You'll be impressed like I was! Please check out my Steve Vai Concert Pictures page on this site for more pictures from the concert. I wasn't able to take any pictures, but got them from a nice guy who was there, Glen Mercer. Thanks for letting me use your pictures here Glen!
It's time for another update. We all evacuated hurricane "Katrina" to Houston to Julie's sister's house. We had two vehicles, five adults, two dogs, one cat, and Skai. We were very fortunate all of our homes recieved very minimal damage. Compared to the utter devastation all over our area we were very blessed. My father-in-law, David Doherty, and my brother-in-law, Rick Wooley took pictures on 9/1. I've posted some here of our homes and workplaces. We will go to Lafayette and stay with my parents there for a while, until it is safe to move back into our homes in Slidell. I am still in pain from a back injury on 7/11. I hope to get surgery soon to help me recover. We're all doing fine here. I hope to hear from you sometime soon. Please don't forget to sign my guestbook. Take care everyone! (Updated 9/02/05 - by Mike Buckley)
HAPPY BIRTHDAY SKAI! SHE TURNED 5 ON FEBRUARY 25. SHE'S NOT A BABY ANYMORE. SHE'S TURNING INTO A FINE YOUNG GIRL WE'RE VERY PROUD OF, AND LOVE VERY MUCH!
Skai "washed" her puppy Barney after he was made.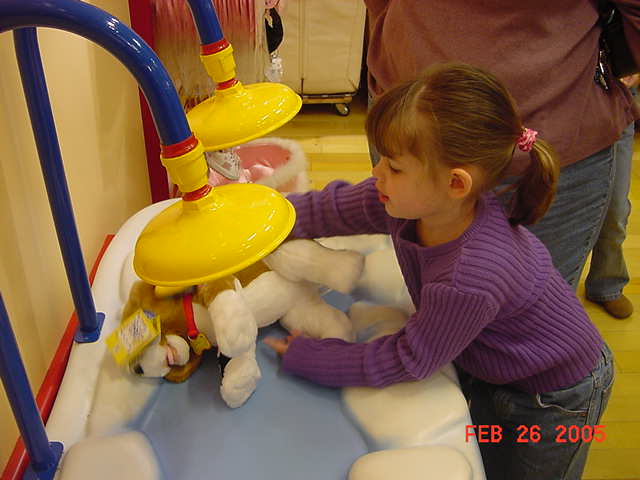 Barney's birthday is on 2/26, one day after Skai's.
Skai built her own puppy dog, and named it Barney.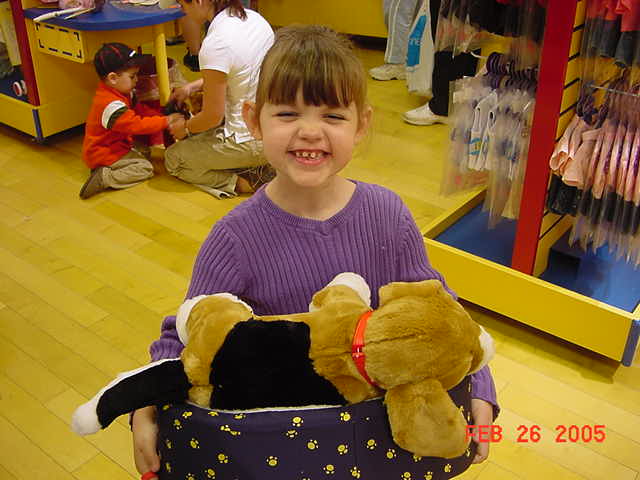 She got him made at Build-A-Bear Workshop in New Orleans, LA.
Skai's posing for the camera.
A little miss attitude!
Hello out there! Here's my personal family website. I hope you enjoy it. I'll be constantly updating it as Skai grows up, and someday we add a little brother or sister for her to our family. Here you'll find some background information on me, pictures of our family, my favorite links on the internet, and the latest news about what's going on in our lives. Please send me an e-mail and let me know what you think of the site, and how you and your family is doing. Take care, and God bless! - Mike Buckley
Skai the "jedi"!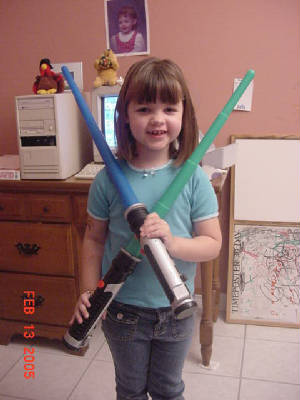 She can handle two lightsabers at one time!
The "2GRITS" in my website stands for: two girls raised in the south. That is my wife, Julie, and our daughter, Skai (pronounce it just like "sky"). Julie has "2GRITS" on her license plate too!